Peter Norton Sues Time Magazine for $50 Million
Claims Cover Photo Infringes on His Trademark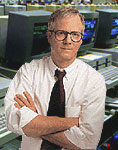 Los Angeles, CA /DenounceNewswire/ -- 21 December 2002 -- Peter Norton, famous for his crossed-arms pose and utility software named after him, has announced that he is suing Time magazine for its latest magazine cover, which depicts this year's "Persons of the Year," who happen to be three women who blew the whistle in their organizations and made headlines in 2002.

"I've used this distinctive pose for over twenty years," a spokesman for Mr. Norton said that Mr. Norton said, "and I own the rights to the arms-crossed pose. Nobody in the world is allowed to be photographed that way without paying a fee." Fees begin at $1500 for a black-and-white newspaper photograph used one time, to $1.2 million for actors crossing their arms in movie scenes or television commercials.
"We do not recognize Mr. Norton's claim, and frankly, it's silly," said a spokesman for Steve Case, chairman of the board of AOL Time Warner, Time magazine's parent company.
Since the three people on the cover all are depicted with their arms crossed, Mr. Norton is claiming $10 million per person, plus $20 million in punitive damages.
Norton, whose arms are permanently crossed due to overuse of the pose in photography sessions, claims emotional distress whenever he sees others with their arms crossed.
Posted by denounce on December 21, 2002 05:30 PM