Tilting Diebold Voting Machines 25 Degrees Reveals 1 in 3 Are Rigged
Touch Screen Models Turn Out To Be Pre-set For, You Guessed It, Republicans
West Filabucket, CT /DenounceNewswire/ -- 18 February 2004 -- K.R., an eighteen-year-old programmer from West Filabucket, Connecticut today revealed on his web log that he had discovered that one in three Diebold AccuVote-TS electronic touch-screen voting machines, which are being widely used this year in elections across the country, do not actually accept the voter's vote, but rather, are pre-rigged to cast a ballot full of Republican candidates.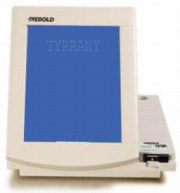 K.R., who preferred his name was undisclosed, described how tilting a Diebold machine 25 degrees will reveal one of two words in the liquid-crystal display (LCD) touchscreen: "FREEDOM" or "TYRRANY."
"You have to have good lighting," says K.R. "The word appears towards the top center of the display, in a kind of blurry mask under the glass of the screen. It's only visible at exactly 25 degrees tilt, in a bright light."
If you see the word "FREEDOM", then voters using this machine will have their vote cast accurately. But if you see the word "TYRRANY," your votes will be ignored, and your ballot will actually be set to Republican-sponsored candidates and initiatives only.
Voters who care that their votes are counted are urged to check their touchscreen machines carefully, or insist on a traditional punched paper ballot. Posted by denounce on February 19, 2004 10:58 PM